Water Industry Process Automation & Control
Now in its 12th successful year, WEX Global has continued to build a great reputation as an important meeting place for top people in the leading organisations that are really making a difference in the world of water and energy.
WEX GLOBAL is an action oriented summit which places business meetings at its heart. A programme of pre- organised one to one meetings are combined with an outstanding conference of internationally renowned expert speakers and numerous other networking opportunities such as themed lunches, a gala dinner and other receptions. It is a unique opportunity to form strong international business partnerships at a single exclusive location. Every delegate receives a personalised agenda which means that at WEX, you will shorten your sales cycle with a top down selling approach that initiates relationships directly with senior decision makers.
WEX Global Conference
One of the strengths of WEX Global is the strong technical conference, it's something that WIPAC has collaborated with WEX with for many years. This year there will be a whole stream of the conference dedicated to Water 4.0 and the Smart Water Industry from BIM and Asset Management at the infrastructure level, advanced process control at the instrument and control level to the potential of data analytics and artifical intelligence at the analytics and insight level of the industry.
This will all fit into the main theme of the Circular Economy where the direction of the water industry is heading towards maximising what can be produced as a product from the industry and how we can minimise the resources that the industry consumes.
WEX Global B2B
At the centre of WEX Global is the Business to Business meetings that are arranged between all of the attendees . Individual timetables are set for each attendee to maximise their time at the event. Every attendee is picked up from the airport and taken to the conference venue and the days of the conference are a mixture of the technical conference and Business to Business meetings that each attendee has individually selected and packed into everyone's personalised agendas.
The attendees at the conference are a true mix of high level decision makers within Utilities, governments, trade associations and of course the supply chain.
Also within the days of the conference there are round-table events to discuss particular subject areas as well as more informal meetings as well. The days are long and packed but the quality of the Business to Business discussions are second to none.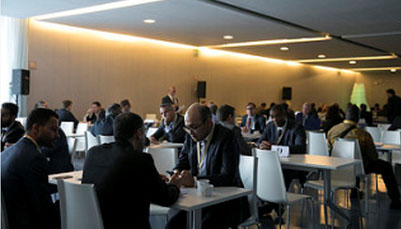 WEX Global Gala Dinner & Awards
No conference event is complete without a gala awards dinner and previous events have featured some very fun times with WEX doing things slightly differently to those the highlight a few years ago which can be read in his "Notes from Piers" Blog
The WEX Global Awards are highly contested and sort after including the Innovation Award sponsored by FCC Aqualia and hosted by their Innovation Director, Frank Rogalla.