Future of Utilities Conference Series
The Future of Utilities Conference series is centred not only around water utilities but around the whole utility industry and features industry leading speakers presenting the key strategies and learning points from industry as a whole. The main conferences that are applicable to the water industry are the Future of Utilities Summit that takes place in March each year, the Innovation in Networks Conference that takes place in June each year the Water Conference that takes place in November each year.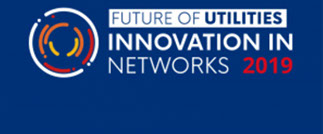 Future of Utilities: Innovation in Networks showcases those at the forefront of industry advancement by bringing networks together to discuss how asset management is changing as a result of new sensor data and analytical capability. What is data's true potential, and what are its costs? The future of the utilities industry will be transformed forever by data analytics, the Internet of Things and new technologies. In order to adapt to their new future, electricity, gas and water networks must rise to the challenge they face, or they risk missing their incident reduction targets and spiralling operational costs.
This year's conference will take place on 26th June 2019
The Future of Utilities Water 2019 Conference is one of the premium conferences in the calendar. It features a host of senior leaders from the Water Companies discussing the key-issues in the water industry including how we can best deliver the obligations that need to be delivered as part of AMP7. Highlights at this year's conference include presentations by Tony Smith from the Consumer Council for Water, Nigel Watson of Northumbrian Water Group and Jerry White, the Chief Information Offices at Thames Water
This year's conference will take place on the 19th-20th November 2019
The Future of Utilities Summit is the highlight of the calendar with utilities leaders from across all different industries allowing for knowledge to be transferred across different industries. By striking a balance between cross-industry discussion and in-depth exploration into customer interactions, energy, and water, this year's programme will provide the best environment for strategic consultation of all critical issues facing today's decision-makers.
The next Future of Utilities Summit will take place between the 24th and 25th March 2020.
The Water Industry Process Automation & Control Group has set up a contra-agreement for the benefits of the membership. Those wishing to attend the Future of Utillities Conference and who are WIPAC Members can benefit from a 10% discount by using the discount code FOUWIPAC. This discount code is monitored and so should be only be used by registered WIPAC members who wish to attend the event.